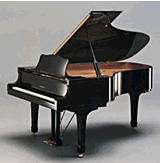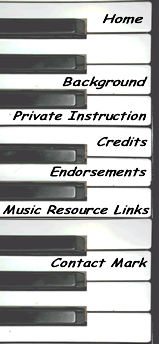 You are listening to the Mark Greenberg Composition: "Toccata"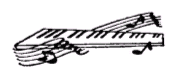 Compositions/Arrangements
2-Part Inventions (for piano, and as duets for woodwinds, strings, guitar)
Prelude & Fugue in D, Prelude & Fugue in A
Introduction/Prelude & Fugue/Postlude in D (arranged for string orchestra, marimba & guitar)
Star Raiderz March & Toccata (video soundtrack)
The Skook (jazz theme software demo)
Brass & Persussion Excursion
Lullaby (for piano)
Lullaby for Strings & Piano
Take the "A" Train - Ellington/Strayhorn (arranged for string orchestra, marimba & guitar)
Productions & Awards
Disney soundtracks for theme park shows
Arranger/Producer of children, holiday, pop/jazz/classical CDs for Nesak International
American Advertising Federation's ADDY Award
(commercial/jingle/advertising)
CLIO Awards Judge
(TV commercials)
Rainbow
(children's musical-music director/co-composer/arranger)
Some of the many musicians and groups
Mark has played and/or recorded with:
(Blue are links to their website)
Charles Libove
Beaux Arts String Quartet
Dr. Robert Washburn

Crane School of Music Faculty - SUNY Potsdam
Dr. Arthur Frackenpohl
Crane School of Music Faculty - SUNY Potsdam
Dr. James Petersack
Crane School of Music Faculty - SUNY Potsdam
Cornelius Bumphus
Steeley Dan
Eugene Minor


composer, conductor

Dave Stryker
Stan Getz, Dizzy Gilllespie, Stanley Turrentine, Jack McDuff
Mark Sganga
Herbie Hancock, Maynard Ferguson, Klezmatics,
Guitar Educator
Greg Skaff
Stanley Turrentine
Bill Crow
Dizzy Gillespie, Stan Getz, Benny Goodman, Harry Belafonte
Linc Milliman
Maynard Ferguson, Zoot Sims, Marian McPartland
Glenn Zottolla
Frank Sinatra, Benny Goodman, Count Basie, Lionel Hampton
Glenn Drewes
"Sweet Charity", "Hair", "City of Angels", The Who's "Tommy", "Seussical", "Titanic", Buddy Rich, Lionel Hampton, Dizzy Gillespie
Frank Strozier
Miles Davis
Andrew Beals
Lionel Hampton, Jack McDuff, Western Connecticut State University Faculty, Woodwind Educator
Carmen Leggio
Benny Goodman, Maynard Ferguson, Gene Krupa, Woody Herman, Buddy Rich, Dizzy Gillespie, Doc Severinson
Gary Keller
Lionel Hampton, Mel Torme, Nesak International
Ed Palermo
Tito Puente, Tony Bennett, Mel Torme
Gary Willner
Joel Grey, Jay Leno
Richard "Cookie" Thomas
Vocal Educator
Beverly Gold
Debra Resto
Mal Z. Lawrence
Freddie Roman
Dick Capri
Dick Lord
Fred Travelena
Steven Scott Entertainment
Shalom Orchestras
Virtual Sinatra
Nesak International
Scene International
Big Band Swing Machine
Bensen-Scott Big Band
Buddy Terry
Duke Ellington Orchestra
Charles Descarfino


conductor

"Sweet Charity", "City of Angels",
"Thoroughly Modern Millie", "Titanic"
Charles Descarfino


percussion

"The Producers" soundtrack, Seussical, The Who's "Tommy", Percussion Educator
Fawn Weiner


conductor

Spring Valley High School Music Dept. Head.
Manhattan School of Music Faculty
Frank Dickinson


drums

Richard Beltzer, David Spinozza
Frank Dickinson
producer, audio engineer,
composer, arranger
Brad Mehldau, A&P, Red Bull Driver Search
Michael Goetz
"The Producers", "Les Miserables", "Beauty and the Beast", "Miss Saigon"," Kiss of the Spider Woman", "Ragtime", Judy Collins, Rita Moreno, Fifth Dimension, Robert Goulet, Jerry Herman, Count Basie Band, Northern Westchester Symphony Orchestra, Miami Symphony Orchestra, SUNY Purchase Faculty,
Electric & Upright Bass Educator
Kermit Driscoll
"The Adventures of Tom Sawer Sawyer", "Urban Cowboy", Bill Frisell, Ben E. King, Mel Torme, Buddy Rich, N.Y. Philharmonic, Purchase College Faculty
Richie Steele
Cirque du Soleil, TV Emmy show "Hot Hero Sandwich", Felix Pappalardi, '212' Band, Nesak International
James Finnen
Brecker Bros., Steve Gadd, Bo Diddley, Max Weinberg, Lonnie Smith, Finn & the Sharks, Nesak International, Woodwind Educator
Peter Furlan
Dizzy Gillespie,Temptations, Four Tops, Tom Chapin,
Rockland County Youth Jazz Ensemble,
Woodwind Educator
Lance Bryant
"Swing", Lionel Hampton, Spike Lee
Paul Avrutin
Four Lads, Four Freshmen, Ink Spots, Pied Pipers, Four Aces
Sal Giorgianni
Quincy Jones, Miles Davis, Maynard Ferguson, Rascals, Liza Minnelli
Peter Anderson


Emerson, Lake & Palmer, Tom Jones, Englebert Humperdinck, Temptations, Spinners, Count Basie, Glenn Miller, Jimmy Dorsey, Larry Elgart, Bob Hope, Jackie Mason, Rodney Dangerfield, Woodwind Educator
Marshall McDonald
Lionel Hampton, Duke Ellington, Dizzy Gillespie, Count Basie Orchestra, Temptations, Four Tops, Aretha Franklin, Melba Moore, Johnny Mathis, Manhattan Transfer
Terry Silverlight
George Benson, Tom Jones, Roberta Flack, Laura Nyro, Anne Murray, Mel Torme
T.V. - One Life To Live", "The Sopranos", "All My Children", "Ed", "Jag", "Beverly Hills 90210", "The Young And The Restless", "Guiding Light"
Commercial Jingles - Reebok, Gain Detergent, Pantene,
Nicorette, Nutrament, Crisco Canola
Joseph Stelluti
Peter Frampton, Beach Boys, Frank Sinatra Jr., Larry Elgart, Ray Charles, Jimmy Dorsey, Harry James, The Dells, Cadillac's, Lou Rawls, Woodwind Educator
David Snider
Gato Barbieri, Sonny Sharrock, Bruce Springsteen, Kid Rock, Dave Mason, Pharaoh Saunders, Johnny Johnson, Maria Muldaur, Pat Benetar, Janis Ian, Vicki Sue Robinson, Dusty Springfield, Phil Cody, Helen Schneider, Guitar & Electric Bass Educator
Richard Reiter
"Dancin'", Baltimore Symphony Orchestra, Frank Sinatra, Tony Bennett, Johnny Mathis, Nancy Wilson, Gregory Hines, Cher, Supremes, Temptations,
Woodwind Educator
Copyright © Prime-Time-Music, All rights reserved.